Wed Apr 17, 2019 10:19 am
Red Sox are having a mirror season of last year
Wed Apr 17, 2019 1:25 pm
worra wrote:Red Sox are having a mirror season of last year
LA and Houston are also having mirror seasons from the previous two years. It's still early and a lot can happen between now and September.
Fri Apr 19, 2019 4:03 pm
The Rays are in first place in the AL East!

After a whopping 19 games.

Anyway, go Rays!
Fri Apr 19, 2019 7:08 pm
Rays are pretty badass

Thu Apr 25, 2019 11:00 am
Fri Apr 26, 2019 10:22 pm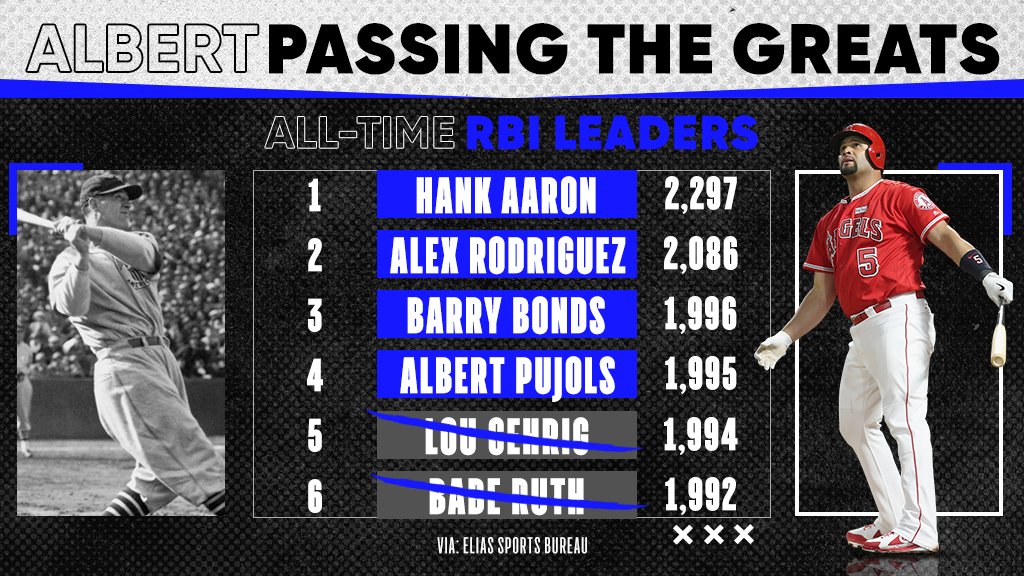 Mon Apr 29, 2019 11:05 am
Pujols now past Bonds on the ribbie list. If he delivers on his statement that he intends to ride out his contract, that's another two years after this one, so chances are pretty good he passes ARod too (barring end-of-career cliff dive) . But getting past Hammerin Hank ain't happenin....

[signed] Cpt. Obvi.
Mon Apr 29, 2019 12:28 pm
I have always held a bat like I swing lefty.. but I swing right.. and some guys were making fun of me about it.. turns out it's called cross grip, and old hammerin Hank also did it ..

In other news it sucks to be a Mariners fan after last night (well pretty much always .. longest post season drought in pro sports still?) Weak
Mon Apr 29, 2019 12:44 pm
Huh, did not know that.

I'm a righty, but I do everything two-handed like a lefty because my dad had me switch sides at the plate in little league since I was scared of getting hbp'd and he figured I'd see less inside stuff that way. Made a world of difference for me on the diamond, and I ended feeling more natural that way with hockey/lax/brooms etc. Hasn't always been to my advantage, but maybe it helped my brain

Seattle needs more than one Super Bowl win to make up for the Sonics theft and Mariners' drought....
Mon Apr 29, 2019 12:47 pm
Hank also held the butt of the bat in his palm. He was such a crusher
Mon Apr 29, 2019 12:58 pm
Dag--I could see the cross-grip possibly enhancing power, but palming the butt end? He really must have had tremendous lower arm strength in addition to his other attributes....
Thu May 09, 2019 11:38 pm