Wed Jan 18, 2017 9:44 pm
Pedals like this are why I hoard modulation and delay processors---they just take you to new places (new images, new worlds, new textures, new ideas). I actually took a long hiatus from music around the tail end of 2002, until about 2010. In 2002, if you didn't have $250-500 to spend on Zvex or Lovetone pedals (which were closing their doors then), then there weren't a lot of options. The nearest Big Briar (Moog) dealer was 135 miles away. EHX was kind of quirky (but I already had the Micro Synth, 70s Memory Man and a big box Polychorus). ---I just wasn't particularly inspired by guitar effects then, and analog synths? ---Ha. Stuff like the Minilogue was still 14 years away. I had an E-Mu Vintage Keys keyboard for imitating 70s strings and miscellaneous retro synth engines. (a cool unit, but I was just burnt out in general and had no real energy for trying to bang out new songs)
Anyway....I'm really happy to be living in this golden era of effects. The world may be a bit of a litter box, but at least there's innovative and dynamic gear to enjoy, while we witness the species devour itself.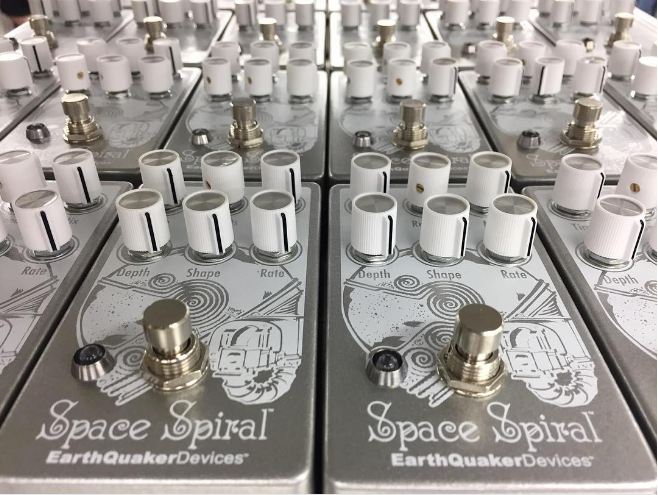 Thu Jan 19, 2017 12:11 pm
$195 street, 30-600ms of delay
Eight demos and counting... (AMS, zZounds, Reverb, CME..) I've listened to half of them and heard some variation in all of them, so I think this pedal can cover subtle shifts to extreme warbles.
https://www.youtube.com/results?search_ ... ace+spiral
There's a little bit of drum machine coverage in this one around the 4:00 mark.
Thu Jan 19, 2017 2:33 pm
(12) Jazzmaster clips, (4) Rhodes samples, (9) synth clips, and (1) CR-78 delayed beat make this one of the best gear info pages ever.
https://www.earthquakerdevices.com/space-spiral
Sun Mar 05, 2017 11:38 am
For those who haven't seen/heard this one:


Tasty deep-fried, sugar-spun cloud formations (melt in your mind, not in your hands).
Wed Jan 22, 2020 9:31 am
I kind of slept on this one, but I've been looking for a delay to pair with my new Moog Sirin and I think this might be the one!
Wed Jan 22, 2020 11:14 am
MrNovember wrote:I kind of slept on this one, but I've been looking for a delay to pair with my new Moog Sirin and I think this might be the one!
My 0.666cents:
I tried it and was quite disappointed. It was just, meh

maybe I didn't had enough time to explore it (it was on a friend's board one year ago or so), but I remember very clearly that my first thought was that there are Tons of delays that can do the same thing.
If I was in the market for a small and non-expensive modulated delay I'd go for the good old Malekko 616 MKII, or the new boss DD8 because it's packed with tons of other features.
(didn't mean to de-hype you, just wanted to give a first hand impression

)
Wed Jan 22, 2020 11:23 am
No worries, I'm only really moderately hyped on it and was looking for more feedback really. The one thing I do really like about the demos of the Space Spiral is that the feedback seems really easy to control and manipulate.

I used to own one of the Malekko delays and never really dug it. I found the feedback really hard to control and it got really shrill really fast. Haven't checked out the DD8, but in general, I'm not a fan of pedals with multiple modes and extras. I get option paralysis hard.
Wed Jan 22, 2020 11:29 am
Yeah, I get the option paralysis thing, and also yeah, the little knobs on the 616 are not the easiest thing to manipulate on the way. Don't know why I didn't mentioned it before, also it's the most ILF suggestion ever, but if you're interested in manipulating feedback the Rubberneck seems the most obvious choice then. Other than modulation, feedback loop, and independent controls for gain and volume, it has also a mini knob to set the feedback to grow up (or slow down) at the rate you choose, and you can trigger it just keeping pressed one of the two footswitches (and also a secondary mini knob for the other footswitch to ramp up/ramp down delay tempo if held down). I use those A LOT.
Wed Jan 22, 2020 11:33 am
Another suggestion if you prefer small format and don't care about tap tempo could be the new Young Hearts from Polarbear Effects. Same modulation settings and 2 different waveshapes, plus dedicated footswitch for feedback control etc.
It Is coming out in a month or so. For various reasons I should receive mine by the end of this week, I will post a review once I played with it for a bit.
Wed Jan 22, 2020 11:38 am
Yeah the Rubberneck is one that I've been meaning to try, but I've never been able to find at a reasonable pricd
Wed Jan 22, 2020 11:53 am
Too bad, when I grabbed mine one year ago they were out for 120ish €/$ probably I can find one reasonably priced here in Italy, but I bet with shipping etc it would cost you a lot more.